By Sebastien Hayez. Published July 07, 2023
5 Essential Books on Typography
Five Essentials Books on Typography
​1.​ Design, Typography, etc.
A Handbook
Damien & Claire Gautier
272 pages of an extremely clear and precise summary of all the major layout rules, whether for a paperback book, a magazine, an artbook, a website or a signage system. The text is very concise, and many examples illustrate the captions wonderfully. Numerous layout grids analyze the structure of the examples, and the best of today's graphic design is also display on the pages. There is no dogma here, only the best of tradition and contemporary experimentation.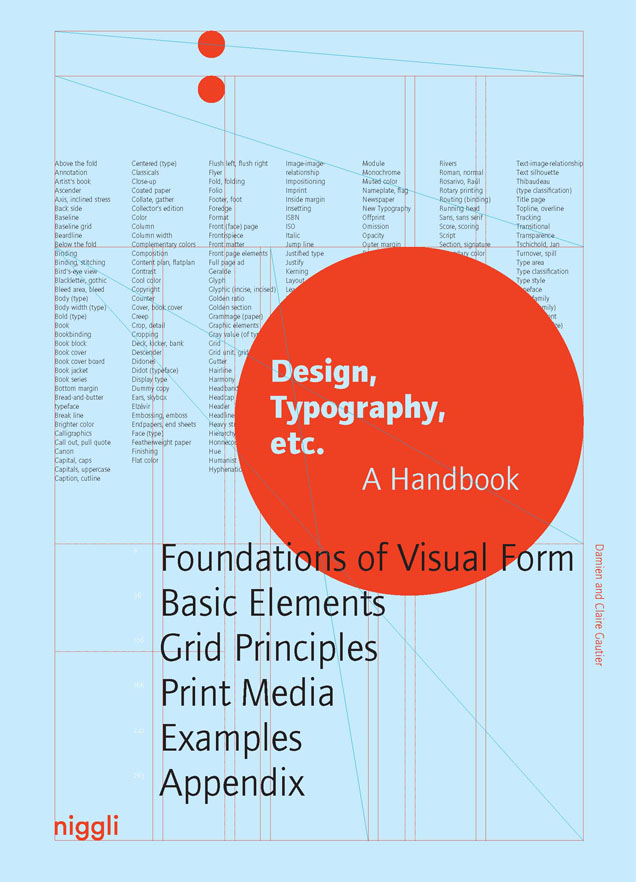 Design, Typography, etc. A Handbook
Damien & Claire Gautier
French (Pyramid, 2009) ISBN : 978-2-35017-169-2
English Edition (Niggli Verlag, 2017) ISBN: 978-3-7212-0977-8
272 pages
400 illustrations
230 x 305 mm
49.90 €
---
​2.​ The Elements of Typographic Style
Robert Bringhurst
Described as "the typographer's Bible" by German type designer Hermann Zapf, and translated into more than ten languages worldwide, Fundamentals of Typography is considered a reference work by designers, typographers and print specialists.
This major work explores the fundamental concepts of typographic work and traces the history of several typefaces that have marked the discipline. 
The first three chapters are an excellent introduction to the philosophy of classical typographic composition. Through his writing and the poetic images used, Bringhurst distils with pedagogy and naturalness what many teachers struggle to share with students. It is this breath of fresh air that is the author's strength, rather than the erudition that can easily be found in other textbooks.
It is this completeness of approach, but this in-between exhaustiveness, that seems to be shaky. The use of complementary and specialized manuals is essential for the graphic designer wishing to perfect the knowledge distilled here in dots, even if this requires the acquisition of numerous books.
You can also read our full review here online.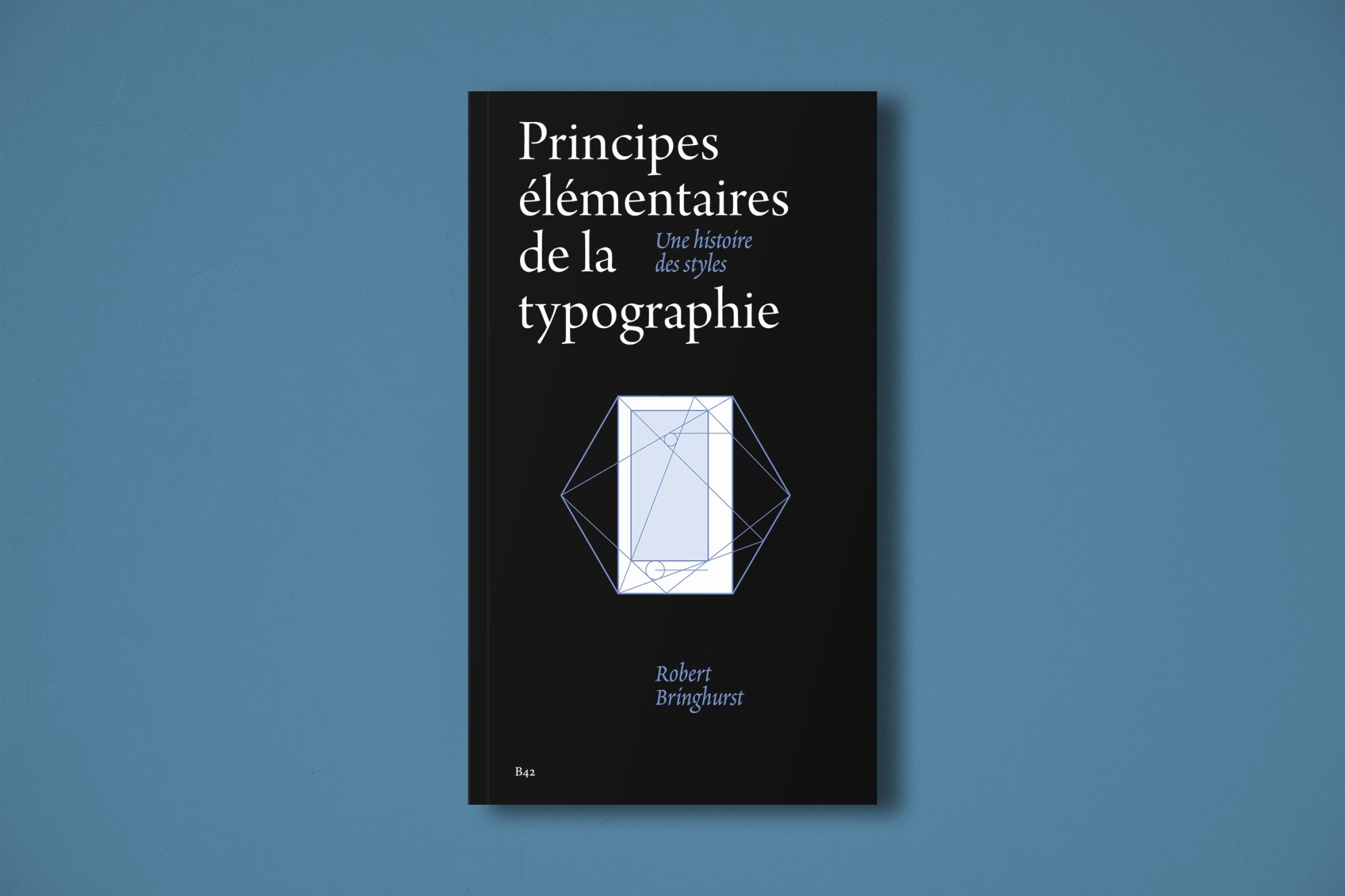 The Elements of Typographic Style
Robert Bringhurst
French (B42, 2023) ISBN : 9782490077656
English Edition
480 pages
140 x 235 mm
30 €
---
​3.​ Detail In Typography
Letters, Letterspacing, Words, Wordspacing, Lines, Linespacing, Columns
Jost Hochuli
The book explores the importance of typography in printed or screen design, and offers invaluable insights into the details that make typography better.
One of the key insights of the book is the importance of the relationship between the typeface and the space around it. Hochuli stresses the need for designers to pay attention to the spacing between letters, words, and lines in order to create typography that is easy to read and visually pleasing.
Throughout the book, Hochuli stresses the importance of attention to detail. He explains how even small details, such as the choice of punctuation, can have a significant impact on the overall effectiveness of the typography.
"Detail in Typography" is a valuable resource for anyone who is involved in the design and production of books. It offers practical advice and insights that can be applied to a wide range of design projects, and is essential reading for anyone who is passionate about typography and book design.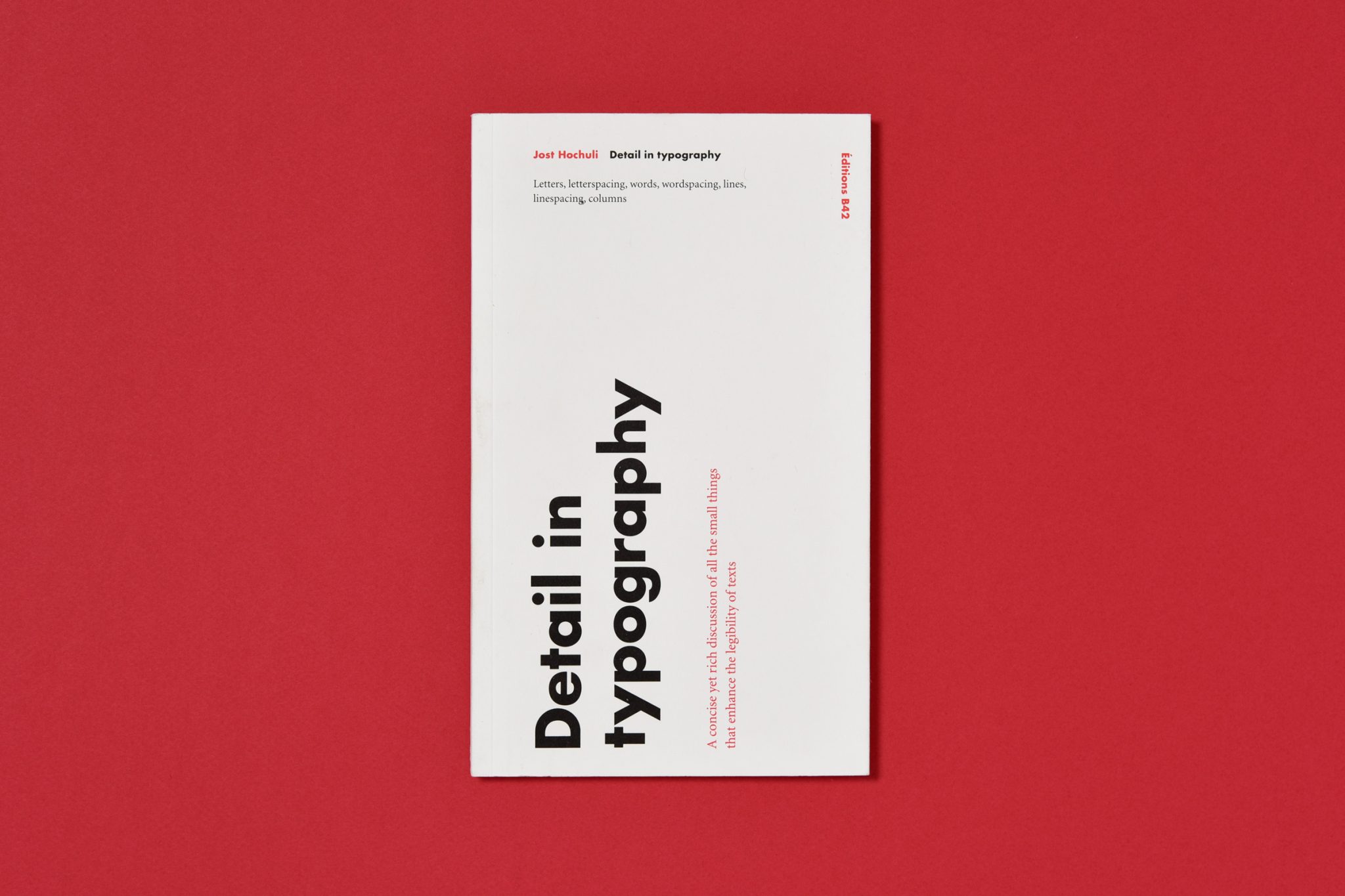 Detail in Typography
Jost Hochuli
English Edition, ISBN : 9782917855669
French Edition, IBSN : 9782917855577
125 x 210 mm
64 pages
2015
17 €
---
​4.​ Modern Typography
An essay in Critical History
Robin Kinross
Modern Typography: An Essay in Critical History" by Robin Kinross is a comprehensive examination of the evolution of typography and its impact on modern society. Kinross's book is an essential reference for anyone interested in graphic design, typography, and the history of printing.
Kinross also discusses the impact of technology on typography. He explores how the development of new printing techniques has changed the way we use typography, and how digital technology has revolutionized the way we create and consume type. He shows how technology has both expanded the possibilities of typography and challenged its traditional role.
"Modern Typography: An Essay in Critical History" is a seminal work in the field of typography and graphic design. Kinross's insights are profound, and his writing is both engaging and accessible. Whether you are a student of typography or a professional designer, this book is essential reading.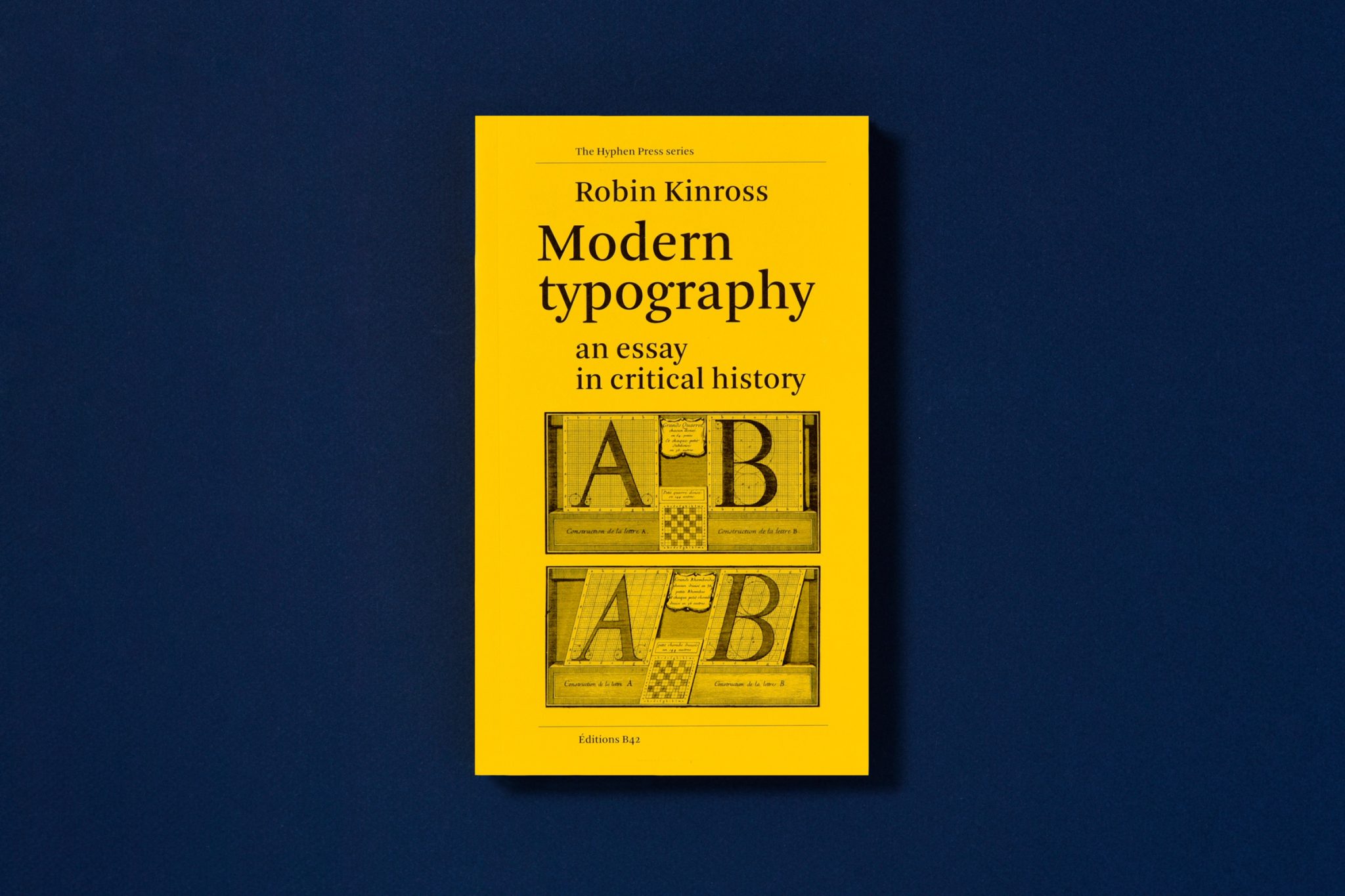 English Edition, ISBN : 9782490077175
French Edition, IBSN : 9782490077090
124 x 210 mm
270 pages
2019
24 €
---
​5.​ 
Counterpunch: Making Type in the 16th Century, Designing Typefaces
Fred Smeijers
Counterpunch: Making Type in the 16th Century, Designing Typefaces" by Fred Smeijers is a fascinating exploration of the history and techniques of type design. The book provides a detailed analysis of the methods used by 16th-century punchcutters, and shows how these techniques have influenced modern type design.
Smeijers also provides a historical context for his analysis, showing how the development of type design was influenced by political, economic, and cultural factors. He explores the work of key historical figures such as Claude Garamond and Robert Granjon, and shows how their work has influenced modern type design.
However, some readers may find the book overly technical in places. Smeijers' focus on the minutiae of punchcutting may be of interest primarily to type designers or those with a deep interest in typography. Additionally, while Smeijers provides some insights into the design process for modern typefaces, the book is primarily focused on historical techniques.
"Counterpunch" is a valuable resource for anyone interested in the history and practice of type design. The work of the counterpunches in type design makes concrete the notion of the negative spaces as more important than the drawing of the plain shapes. The work is thus a magnificent demonstration that the knowledge linked to ancient practices still persists with digital tools.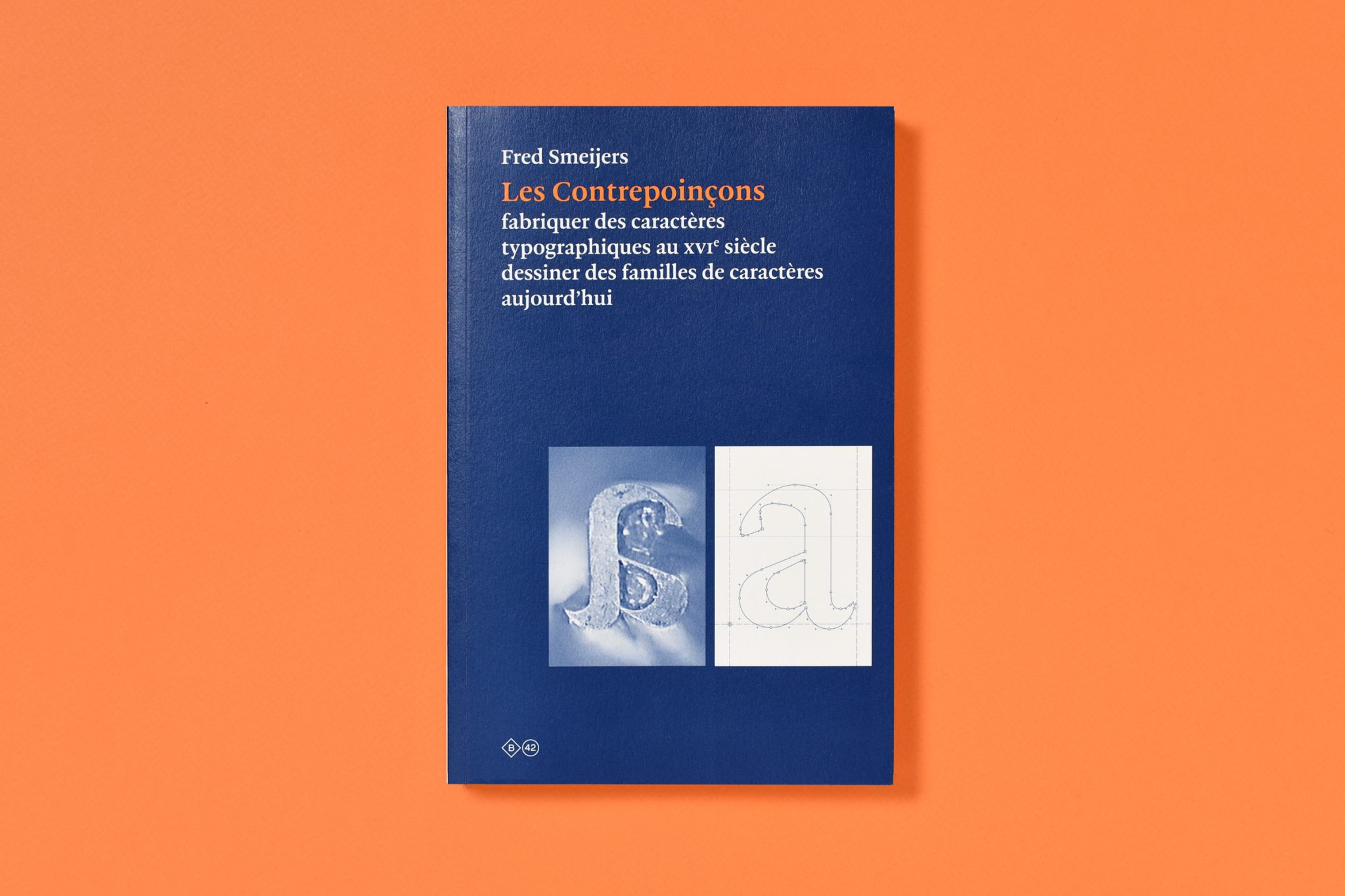 English Edition (Hartley and Marks Publishers, 2005)
French Edition (2014) ISBN : 9782917855515
145 x 220 mm
228 pages
26 €
---