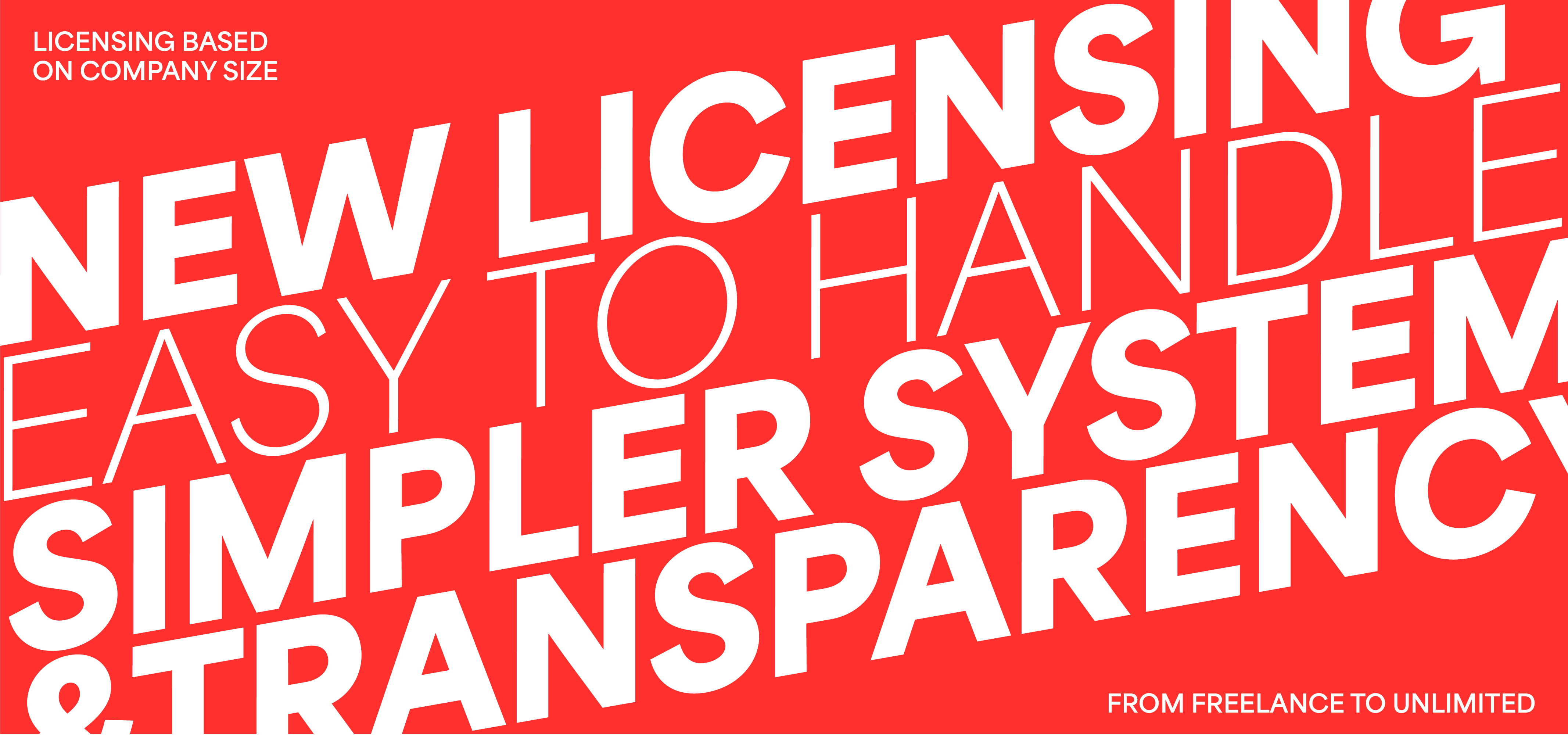 How does our font licensing works?
Since our launch in 2016 we've been advocating for simpler solutions and transparency when it comes to font licenses. One of our pride is having a straightforward licensing system: you purchase a font and you can use it on anything you want: print/web/app/broadcast.

There's no need to check for a specific Web, App, Broadcast licensing, everything is "packed" in a single license when you make a purchase.
When purchasing a font on Blaze Type our License system allows you to use the fonts on anything you wish (print, web, app, broadcast, embended, and so on) for an unlimited amount of users.
The license owner will have to pick a license for the amount of people in their company (starting from Freelance up to Unlimited number of employees)
If you're purchasing a font on behalf of a client (for a branding project for example), as they will & should be the license owner as primary users of the fonts, you'll have to select the amount of employees in their company, not yours.
If you are to use the fonts on anything displayed on Social Media: you have to pick the amount of followers on all social networks owned by the License owner. If the amount of followers is under 10K across all social media platforms, you don't need to purchase a Social Media License as it would be automatically included.
To sum it up here are the different kind of Licensing :
• Student & Academics (Get the rights to use the fonts at a 80% discount for personal / commercial projects). The rights to use the fonts extend after the end of one's studies and are validated as a "Freelance" License and might be updated to a Company sized license depending on your activity's growth.

• Company: starting from Freelance to Unlimited. If you plan on using the fonts on anything related to social media, know that the Social Media for up to 10K followers across platforms is included for free. (Make sure you don't need an upgrade here depending on how your followers base evolve)
• Social Media (with the possibility to pick the right amount of Followers —across all social media platforms combined— starting from 10K Followers to Unlimited): grants you a licensing right to use the fonts on anything related to Social Media communication.
• Logo: whether or not the font is to be used as part of a brand identity or as a logo
---